Olive oil is one of the most popular foods around, thanks in part to the well-publicized health benefits of the Mediterranean diet, and its ability to decrease the risk of heart disease, lower cholesterol and regulate blood sugar. In fact, the consumption of olive oil has substantially increased over the years, skyrocketing from 29 metric tons in 1980 to 327 metric tons in 2015, according to IndexMundi. It's now a $16 billion a year industry, but unfortunately, with its popularity has also come quite a bit of fraud and corruption.
While most people believe the FDA (U.S. Food and Drug Administration) is carefully watching out for and policing food fraud, that's not the reality. The FDA's main focus is to ensure an ingredient label is accurate, and to track food-related disease outbreaks. The agency does little when it comes to preventing fake, illegally adulterated foods from being sold to consumers. And sadly, the olive oil industry is one of the most corrupt of any food in history – the corruption is said to go as far back as the 24th century BC.
(At the end of this article we'll reveal where you can buy the best quality, freshest and purest extra virgin olive oil available anywhere in the world.)
Contamination and mislabeling are just as common today as it has been for years. Tests have revealed that anywhere from 60 to as much as 90 percent of olive oils that you can purchase at your local grocery store or restaurant have been adulterated with cheap, oxidized, omega-6 vegetable oils, like peanut oil, palm oil, soybean oil, corn oil, sunflower oil, or non-human grade olive oils, which are potentially hazardous to our health in multiple ways. Those added oils aren't listed on the label, and most consumers have no idea that the olive oil they're purchasing isn't 100 percent pure.
A 2010 study out of the Olive Center at the University of California at Davis, tested a selection of extra virgin olive oils that were purchased from grocery stores in California. They wanted to determine whether products marked as "extra virgin olive oil" actually met the international extra virgin standard. The research team discovered that "69 percent of the imported oils sampled, compared with just 10 percent of the California-produced oils sampled, failed to meet internationally accepted standards for extra virgin olive oil.
In 2013,Tom Mueller revealed in his book, Extra Virginity: the Sublime and Scandalous World of Olive Oil,  even greater concerns about Italy's olive oil industry, showcasing how sellers use cheaper, lower grade oils, artificial colors and flavors to fool those who are buying it. In December of 2015, Italian authorities shut down a massive fraud ring in Puglia, Italy which involved 12 different olive oil companies.
This is so common, that the majority of people haven't actually even tasted a high quality, pure olive oil, so they don't even realize that something is off. Very off. There have been class action lawsuits filed against a number of olive oil companies due to the corruption, including one suit against the maker of a product labeled "pure olive oil" that turned out to be olive pomace oil.
Olive pomace oil is nothing like the real thing – it's actually the solid residue that's left over from olive oil production. It's then treated using chemical solvents like hexane, and extremely high temperatures in order to extract it and then blend it into other low-quality olive oils for flavor.
Given all of that, how can you tell if your olive oil is fake – or more importantly, how can you tell that you are buying true extra virgin olive oil?
The good news is that there are many exceptional, fine brands of extra-virgin olive oil produced in both Europe and the U.S., that meet international standards. While there is no foolproof way to determine whether your olive oil is actually "extra virgin," meaning that it comes from the first "pressing of the fruit," outside of getting to know your local farmer and finding out just how it's processed, there are clues to look for in order to purchase the most authentic olive oil and avoid those low quality, fake oils.
1. Determine where it was made
Just because the bottle states "Made in Italy," doesn't necessarily mean the olive oil was produced with Italian olives. Find out whether it was actually pressed in Italy, and not just packaged there. Quality, higher end products should state which city it comes from. Ideally, it should come from places like Siena, Florence, Lucca, Messina or Palermo, which are located in the olive-growing regions of Apulia (Puglia) or Sicily. The more information that's provided about the grower, the region and the kind of olives used, the greater the odds that it's the real thing.
Choosing an oil from California may actually be better than an oil from European countries like Spain, Greece and Italy, according to research out of the University of California at Davis. When researchers tested 124 different samples, more than 70 percent failed, but oils that came from California were much less likely to be contaminated due to the more strict regulations employed by the California Olive Oil council.
2. How is it bottled?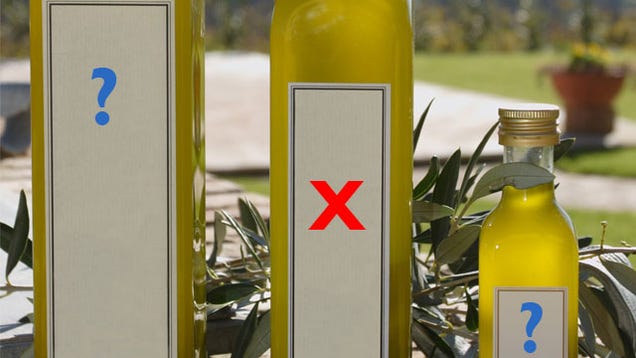 It's essential for olive oil to be stored in a dark colored glass, usually brown or green, in order to protect it from UV light and possible degradation. If it's in a clear glass or plastic container, put it back on the shelf. Also take note of the location of where the olive oil is displayed in the store. If the aisle is exposed to a high level of natural sunlight, or is excessively hot, then it's probably better to shop for your olive oil at a different store.
3. Understand the meaning of "extra-virgin olive oil"
First off, that label should always read "extra-virgin" olive oil – while that isn't a guarantee that it's the authentic product, if it's labeled anything but, using terms like "light," "pure," or simply "olive oil," that you know for sure that it's been refined. Extra-virgin indicates that it comes from the very first pressing of each season's olives, meaning that it's pure, luminescent green, and should have an almost peppery, powerful flavor.
4. Take a closer look at the label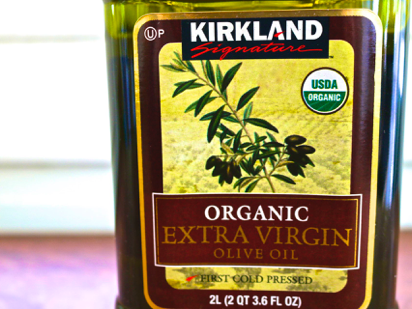 There are a few other things you should look for on that label, including dates. Pure olive oil should keep for two years without the use of preservatives. Make sure the expiration date on your product is fewer than two years from the date of purchase. The other date to check is the harvest date – if there isn't one, it could be years old, or not actually olive oil.
Sometimes quality information is also indicated, including the production location and the name of the producer. If the variety of olives used to make it is indicated on the label, that may be a mark of a higher quality label. For olive oils made in the U.S. look for a California Olive Council seal, and for European oils, there should be a D.O.P. (protected designation of origin) seal.
Remember, olive oil isn't like wine – its flavor does not improve with age. Newer is better, and the very best flavor can be enjoyed within the first year after it was harvested. Don't be concerned if the extra-virgin olive oil doesn't say "cold pressed." Most olive oils are processed by means of a centrifuge. If it is a true extra-virgin olive oil, then it was processed at a cool temperature.
5. Go directly to the source
If you're lucky enough to be living in an olive producing region like California, consider visiting a local olive mill. Not only can it be an interesting experience, but buying local is always a good practice whenever possible to support your local community and for environmental reasons as well. You'll get the chance to ask questions, such as whether or not the olives are processed within 24 hours of being harvested, and you can ask to sample a bit too. While it should go without saying, it shouldn't smell or taste moldy, but fresh, slightly fruity and peppery. If it tastes metallic or like wet cardboard, don't take it home.
6. Visit your farmers market
If you can't go directly to the source, your next best bet is to purchase from a farmers market, as you're likely to find vendors selling regionally produced olive oils. You can ask the business owner about their oils and taste samples too. Find out how the oil is processed, where the olives or grown, and determine which olive oil you think tastes best. Some may even be able to bottle the oil for you right on site.
7. The price
While the price of the olive oil isn't a guarantee of quality, choosing the cheapest bottle on the shelf usually means you're getting what you pay for: a cheap oil. When you buy a product from the other side of the world, there is a higher cost for transportation. If you see a bottle of olive oil at your supermarket that costs the same as that bottle of corn oil, it likely contains the same or very similar ingredients.
---
Would You Like To Try A Bottle Of One Of The Most Flavorful & Freshest Olive Oils In The World… For Just $1?
T. J. Robinson is known as the "olive oil hunter". He travels the world sourcing the highest quality extra virgin olive oils and flies them directly to the kitchens of America's top gourmet chefs and passionate foodies immediately after they're pressed.
Last week, he kindly sent me a bottle to try out. I quickly opened it, a beautiful bottle from Greece and tasted a few drops.
The taste was unlike anything I've ever experienced before. It was grassy, herby, fruity, and intense—all at the same time, just like a complex wine. And then came the oil's remarkable finish: A distinct "pepperiness" at the back of the throat upon swallowing, the hallmark of the very freshest oil. (This peppery tang is due to the oleocanthal, the inflammation-fighting component that can begin to disappear six months after pressing. It's a good indicator of how fresh and healing the EVOO you're currently using is.)
It made me realize just how bad most store bought olive oil is and just how good it can be! The problem is that most olive oil sold in the US (even in the top gourmet stores) is imported by cargo ship – a process that can take many months. On top of that many bottles continue to languish in warehouses for months more and then sit on store shelves for even longer meaning that when it finally reaches your dinner table, it is hopelessly degraded and desperately lacking in taste and smell.
Source: Naturallivingideas