Regular exercise is essential for maintaining your healthy lifestyle. Not only does exercising make your muscles more flexible and your skin tighter, but constant physical activity is also known to improve your mood, energy levels and sleep. What's more, exercises help your body get rid of harmful toxins. In that sense, exercising after plastic surgery is very beneficial. However, there are some rules that you need to follow. You can't undergo a surgery and expect to return to your usual workout routine immediately. In order for post-surgery physical activity to be truly beneficial and safe, you need to talk to your doctor and follow their advice. Otherwise, you may endanger your health and reduce the effect of the surgery. If you're interested in some general guidelines concerning safe exercising after plastic surgery, keep on reading.
Safe exercising after breast surgery
It doesn't matter whether you're undergoing breast augmentation or reduction. Breast surgery means that your pectoral muscles need to heal properly. Pectoral muscles are located under your breasts and therefore, they are connected with both your arms and chest. You can see how this can affect your health if you don't follow exercise rules properly. In general, any exercise that involves using your upper body is strictly prohibited in the first four weeks after breast surgery. This doesn't only mean the usual sit-ups and push-ups, but any type of resistance training as well. Essentially, you shouldn't cause stress to your upper body and therefore you should avoid any type of strenuous cardio and jumping activity as well. You can start with light walks even one week after the surgery, but start thinking about your regular workout routine and discuss it with your doctor only once you've been in the recovery process for one whole month. On the other hand, patients are encouraged to exercise their lower body during this period when all upper body exercises are forbidden. In that respect, already mentioned walks as well as a moderate amount of lunges and squats are recommended.
Safe exercising after a facelift
You may think that a facelift is not that invasive, but you still have to be very careful. Moving and bending too much can pull the stitches as well as cause higher blood pressure. This can consequently cause swelling, bleeding, as well as lead to scarring and infection. You can easily start moving around your home even after just two days after the surgery. However, even though light housework is recommended, don't do anything too challenging that requires too much strength and causes pressure. You can relax your muscles with some stretching exercises as well as isometric exercises. This is allowed after the first two weeks after the surgery, but be aware that anything more strenuous than that should wait for two more weeks. Basically, your regular workout routine should only be considered once your stitches are removed and everything has healed properly.
Safe exercising after a tummy tuck
A tummy tuck targets the abdominal fat. Therefore, it's perfect for people who simply can't get rid of fat in this part of the body with regular diet and exercise. However, a tummy tuck is also an invasive procedure that shouldn't be taken lightly. Exercises are an essential part of a tummy tuck recovery, but you should only do those exercises that your doctor recommends and when they recommend them. Patients who undergo tummy tuck surgery should start moving slowly immediately after the surgery. However, this doesn't mean that any strenuous movement is allowed. Light walks are perfect for boosting blood circulation after a tummy tuck. After six weeks of recovery and healing, which means plenty of rest and light movements, patients are encouraged to take up some cardiovascular exercises. However, these cardiovascular exercises shouldn't be too challenging and you should ease your way into the routine for two weeks. When it comes to weightlifting and other forms of exercising, you should follow your doctor's orders. In general, you should always wait for 8-10 weeks to resume your regular workouts.
Safe exercising after liposuction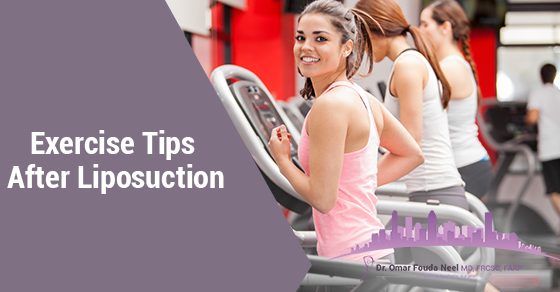 Liposuction is a plastic surgery where a recovery process solely depends on the individual. In general, after undergoing liposuction, patients are advised to exercise lightly three weeks post-op. However, since every patient recovers and reacts differently in this case, the type and amount of exercises have to be discussed with your doctor. Opt for expert clinics for liposuction in Perth in order to be completely sure that you're in good hands and that you'll get advice on exercises catered specially to you. A compression garment is usually worn for a month. That being said, you can expect to resume some more challenging workouts in the fifth week after the surgery, but until you're completely recovered, you can't go back to your usual workout routine you had before the surgery. Going against your doctor's orders increases the risk of swelling, which can only prolong your recovery process. If you want to resume your usual workout routine faster, you should be patient and avoid any strenuous activity that your doctor perceives as unsafe.
As you can see, with any type of plastic surgery, you will have to be extremely careful in the first four weeks. The types of exercises you can do in this period vary depending on the procedure and your overall condition, so don't use anyone else as a role model. If you know someone who managed to resume their regular workout routine after a specific period of time, this doesn't mean that you'll be able to do the same. Listen to your doctor but your body as well.
Diana Smith